The North Leitrim Women's Centre Positive Relations Project aims to work with and support women across Northern Ireland and the southern border counties. Its core goal is to engage and empower women to contribute to post-conflict transition, reconciliation and reconstruction across Northern Ireland and the six southern border counties through a programme of training and cross community interaction.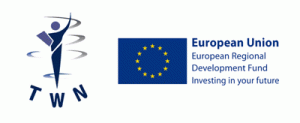 The overall project is managed and coordinated at a regional level by the Training for Women Network (TWN) in Belfast and is supported by the EU's Peace III programme managed by the Special EU Programmes Body . At a local level the project is developed and delivered through a network of 23 community based organisations active across the region. North Leitrim Women's Centre has responsibility for the development, promotion and delivery of the project in the Leitrim area.
Through a programme of support and training the project aims to increase the participation and meaningful engagement of women in their local community, to build the capacity of women to influence and take part in decision making and strengthen the voice of women in their local community and beyond.
In addition to building the skills and capacity of women the project aims to support and create opportunities for women to network and build relationships with other women from different communities and backgrounds. And in doing so foster reconciliation and empower women to contribute to a shared future and a vision for an interdependent and fair society.
The North Leitrim Women's Centre began delivering the Positive Relations Project in the county in 2009 and to date it has proved a huge success in the county. The Positive Relations Project dovetails well with the established work of the centre and offers women in the locality an additional series of support and education and training opportunities. To date the Positive Relations Project has worked with over 80 women across the county, providing support, personal development, accredited training, skills workshops as well as opportunities to meet and engage with women from other backgrounds, communities and cultures. The following are some examples of the type of work that's taking place as part of the Project:
Provision of accredited Conflict & Reconciliation Training – 44 women to date have participated in this training
'Women Coming in from the Borders'  – a Cross Border Residential involving over 30 women from across the Western and Central Border Region focused on identifying areas of common ground and concern and creating a shared vision for women in the border counties
Provision of a range of courses for women including Personal Development, Leadership & Communication
The success of the Positive Relations Project in the county can be seen not only in numbers of women engaging in the work of the project, the numbers accessing training and gaining accreditation but in the growing confidence of the women involved, the willingness and courage to challenge themselves and the newly emerging friendships.
The success of the project and the impact it is having on the lives of women involved can best be summed up in their own words:
A wonderful experience, enriching and life changing
To spend time with lovely, genuine women who care about each others lives, past, present and future and are willing to make a difference