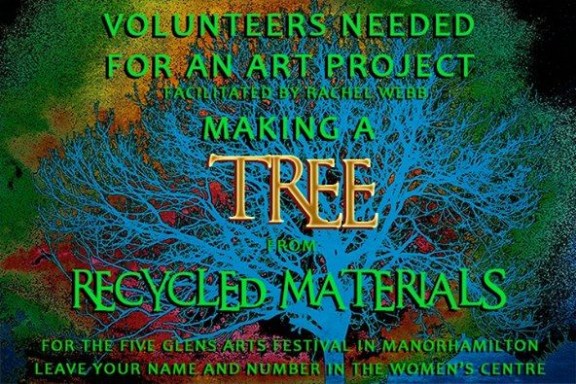 Hi there Women –

The Five Glens Arts Fesival happens in Manorhamilton on the 21st, 22nd and 23rd August. With a theme of 'Trees' for an exhibition at the festival, I thought it would be fun to create a big tree from recycled materials. I have begun to plan how it might be done but I need a gang of you to help me make it happen. We can use the computer room at the women's centre on TUESDAY 21st JULY at 2pm and every Tuesday afternoon til the festival.

The festival website is here: http://www.fiveglensartsfestival.com/about.html
New Zealand ray ban sunglasses
If you want to get involved:
oakley oil drum sunglasses
*   Call Evelyn at the Women's Centre – 071 9856220 and leave your name and phone number with her (or call me on 087 9319433)
*   Start collecting any recycled materials that you fancy, especially plastic (bags, cups etc) and old fabric and clothes that are colourful.
Oakley sunglasses Poland
You don't need any art experience
You don't need to be skilled at all
You don't need to know what you're doing!!
ray ban sunglasses
You need to want to have some fun with a few other women.

Please don't leave me to do this on my own!